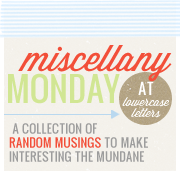 1. Wow, it has been way to long since I have done a Miscellany Monday, oh how I have missed you!!!!!! I have really missed being able to write my random thought down.
2. School starts tomorrow for my kiddos. Where did the summer go??? I remember just posting a bit ago about how would I survive a summer with all 5 of the kids and now I am sad it is over. It will be nice to get back into a routine but sad that they cant play freely all day. My hubby keeps say they don't have to go back to school. He just loves having them home and having freedom. The one thing I don't like about school is HOMEWORK!!!! It just takes up way to much of there free time!
3. Summer- We enjoyed our summer. Really we did not do much but it was nice and relaxing! The kids swam in the pool almost everyday, played outside, wined because there was nothing to do, watched movies, played games, made up plays and made a huge mess in there room everyday (which would become bigger everyday).
4. Autumn - She is getting so big, she is rolling all over. If she wants to get somewhere she will roll and turn and roll and turn till she gets there. It is so cute. I have been having a hard time getting her down for a nap, I will have her asleep while nursing her and the go lay her down in her bed and BAM she is wide awake. Then she will lay there crying forever!!! She does not want to miss a thing!
5. Dishes and more dishes..... Just when I finally have gotten my laundry down to a good schedule now my dishes have gotten out of control. I feel like I do them the turn around and there is another pile in the sink. CRAZY!!!
6. Shopping - Just like a drug addict I am going through with drawls but maybe worse!! HAHAHAHA. I have not been able to spend money and really it is so hard, way harder then I thought it would be.
7. School shoes - So for 4 years now I have had to find the dreaded school shoes. For the older girls I can just get them at Payless for about $10. Well, this year they went up in price, UGH. Now last year for Aubrey they don't sell those ugly shoes in her size so the search was on. I have yet to figure out why they have to be ugly navy blue Mary Jane's, black would be SO much easier!! Navy shoes are impossible to find for little girls or so expensive it is ridicule's! Last year I found a pair for Aubrey on sale for $22 and this year thankfully I found a pair for her for $18. I remember to look at Payless while I was at the mall the other day and found they don't sell her size at Payless. I am so glad I remembered to check while I was there so I could check other stores, crisis averted. It is crazy s shoe so little can be so pricey. I just hate don't like spending money on such ugly shoes, HAHAHA.
8. As I am sitting here typing Autumn just learned how to click her tongue. How cute is that!?!?!? I just love this age and how they learn new things everyday.
Happy Labor Day Everyone!!